An Online Narrative Campaign
So I've been brainstorming an idea for how to put on an online narrative campaign, and by George, I think I've got it.
The Word of the Day here is "Narrative":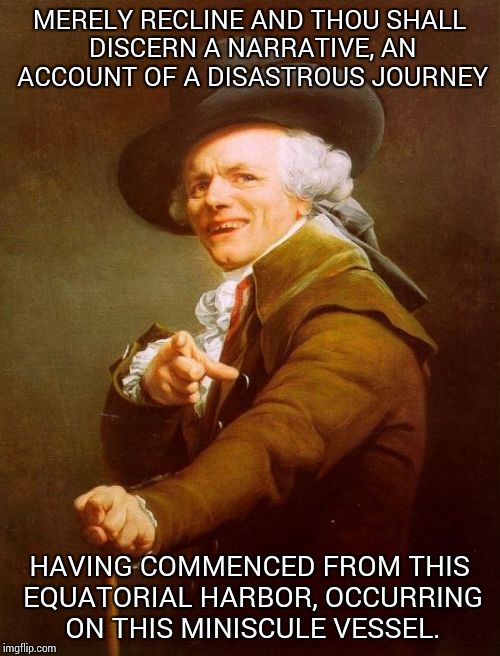 So here's the idea:
1. Begin with a timeline for events (Let's say a week). At the start of the week (Thursday, for funsies) we know the condition in which our internet world stands (What locations exist and who controls what, etc).
2. We go about our week on a regular gaming basis. We play games, etc.
3. During the week, lets say before or on "Tuesday", we (and by "we" I mean everyone) post a narrative story, involving a battle we fought over the weekend, tying it to this narrative universe (even if the battle at that time was set elsewhere)
4. After all of the stories are "in" on Tuesday, we vote for our favorite story on Wednesday. Whatever story wins the most votes is however the setting changes.
5. It's Thursday, and therefore the beginning of the next week. Something has changed and our narrative has progressed.
Nothing is set in stone, and I'd like to hear whether the community at large would be interested in participating or not. Here's a few more thoughts to maintain some balance:
A. Ideally 6-8 areas in any realm or region set in the AoS universe. (I like 7.)
B. Either begin with voting on the best narrative that describes the areas in the realm/region, or begin with the Top 7 (or however many) stories that involve winning a battle and claiming an area.
C. Factions: Order, Chaos, Death, and Destruction. Because of the relative size mismatches of Order and Chaos in comparison, any force can can declare for either the Death or Destruction faction. Just justify it in narrative. (No, Order can't fight for Chaos and vice-versa)
D. No single Author's submission can win in back to back weeks. (This should be a community project, not one brilliant writer's masterpiece)
E. No Area can be fought over in back to back weeks. (If Order takes the "Dark Tower", the next week's fight may not also take place at the "Dark Tower")
F. A single faction CAN win back to back, but it can't three-peat. (They can't be everywhere at once)
G. Alternatively (this would override Rules D-F), we could intermingle the Top X stories (thinking X=3) that occur in different locations into one round of the story.
In the end, I can only suggest a Community Project, get input from the community on how to start. Then start it, and hope for community participation.